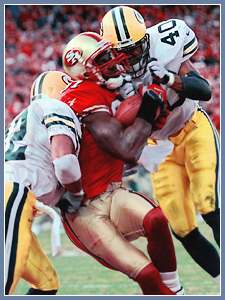 Terrell Owens' dramatic catch amid two defenders helped the 49ers finally beat the Packers.
| | |
| --- | --- |
| | Other Rounds: |
Call it 'The Catch II'
Adding another page to their storied playoff history, the 49ers beat the Packers on Terrell Owens' golden grab in the final seconds.

Jags beat Pats with Taylor-made attack
With Mark Brunell still rusty, Jacksonville asked Fred Taylor to carry the load Sunday. He delivered with one of the best playoff games ever for a rookie back.

Fish foil Flutie in fantastic finish
Just when Doug Flutie seemed on the verge of another amazing comeback in Miami, the Dolphins defense preserved a wild, wild-card victory.

Major upset is in the Cards!
Few gave the Cardinals much chance to beat the playoff-tested Cowboys. And no one expected Arizona to dominate the game from start to finish.

SportsCenter relives some wild ones
There's little question as to the greatest wild-card game in NFL history. Let's just say a record comeback fits the Bills.